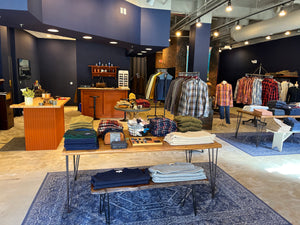 About Us
As a former sales rep in the apparel and footwear industry, I was fortunate to be able to work with some pretty iconic clothing stores throughout the country. By following the example of those stores, I went about curating a collection of brands that I feel is a great representation of the St. Louis consumer.
Most of the brands in our shop have never had a brick and mortar presence in St. Louis. This gives us a unique opportunity to let you shop your favorite brands locally or better yet, discover your new favorite brand!
We are a local Webster Groves family and we can't wait to meet you.
229 W Lockwood Ave. St. Louis, MO 63119
314-395-3119